Asking people what their first job was can lead to some surprising answers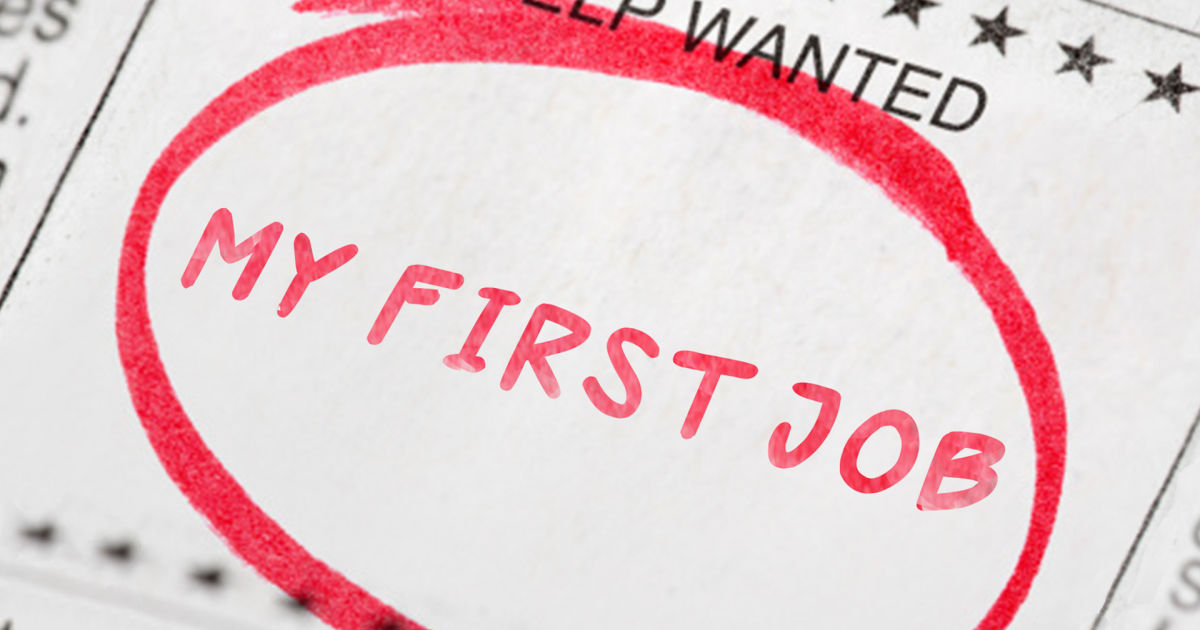 The founder of Amazon worked on the grill at McDonald's and Steve Jobs had a summer job at HP where he met the co-founder of Apple. The bottom line is we all start somewhere, and how we conduct ourselves in our first jobs, can pave the way for a successful career.
Sophie Graham, Careers Adviser at the National Careers Service offers her top tips on things you should ~never~ do in a new job.
Don't have the wrong attitude
"Be sure to go into your first job with a positive 'can-do' attitude!" the Careers Adviser says. "Employers love to see a team player and like to see someone that can bring new ideas, fresh perspective and energy to their workplace. Negativity breeds negativity and can damage productivity and engagement – don't be that person! An employee's potential is normally spotted quickly, so remember it's not about what your employer can do for you, it's about what you can bring to the organisation."
2. Try not to say no to opportunities
This is your first job so it's important that you go into it with an open mind – you should be willing to listen and learn from those around you and soak up their experience and knowledge, and know that no job is too small. "Their support will help you build and develop new skills over time and you'll soon find yourself being trusted with more important tasks. Good employers will always want to see their staff progress and develop, so be sure to take opportunities when they come your way."
3. Don't make a lasting impression for the wrong reasons
We all know first impressions often have a lasting effect, but it's also important to remember people will expect you to be nervous. "Be friendly, polite and positive and get to know your new colleagues and show them that you are a team player. Always try and show your colleagues how much you appreciate their support and that you value their knowledge. Never assume you know better than they do – after all, they've got more experience from doing the job longer than you have."
4. Don't forget that everyone has to start somewhere
"It's very rare that we stumble out of education and into our dream job," Sophie says. "Barak Obama's first job was scooping ice cream and Tom Hanks was a popcorn and peanut vendor! Normally we start at the bottom and work our way to the top. Hard work and determination pay off, go in to your first job wanting to learn and always grab opportunities with both hands. Don't worry if you find yourself stuck by the photocopier and making cups of tea, remember it's only temporary."
5. Don't try too hard to impress – just be yourself!
It's human nature to want to fit in and start climbing that metaphorical career ladder quickly, but Sophie advises not trying too hard. "Chances are if you relax, listen and be patient you will naturally impress over time. Don't waste your time and energy trying to impress others, focus your attention on learning the ropes and getting to grips with the basics. Wear your 'newbie' badge with pride, and when the time comes to pass it on, be there with a helping hand for the next generation of newbies."
6. Don't try to be someone you're not
"You were given this opportunity for a reason, you clearly showed the right skills, experience, enthusiasm and drive in your interview so relax, and believe in yourself. Remember that nerves are perfectly normal, but you can control them by making sure that you have prepared for your first day and arriving with plenty of time. The last thing you want is the added stress of running late! Arrive early and give yourself some time to calm down and get some fresh air and familiarise yourself with your new place of work."
7. Don't pretend you don't make mistakes
Nobody's perfect and without making mistakes we would never learn how to do things right. Like the career advisor says, "chances are, you will make mistakes throughout your working life, you just never know what your job might throw at you. Mistakes help us grow, build experience and self-reflect to improve as both an individual and as an employee. If you make a mistake take ownership and look for solutions to put it right, if anything this will demonstrate your problem-solving skills. Over time you will make less mistakes so don't be too hard on yourself if you do make mistakes in the early stages."
8. Don't burn your bridges
Eventually we all move on from a job, but don't leave on a bum note."Your first job can be the catalyst for your future career, it's the place you learn your trade and build up the skills and experience you need to progress. Your first employer often acts as a reference for new positions and could have an influence on your new job. Keep up the same level of professionalism and work ethic because you just never know when you might end up back where you started."